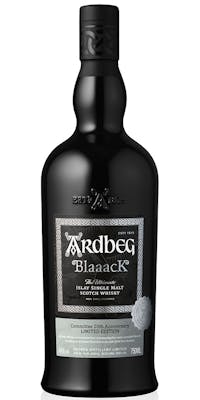 SKU: 081753832834
Ardbeg Distillery Blaaack
---
$250.00
Save $41.00 (16%)
$209.00
---
Ardbeg Blaaack is the feisty limited edition bottled in celebration of the 20th anniversary of the Ardbeg Committee, founded in the year 2000.
For the first time in Ardbeg's history, they rounded up Pinot Noir casks from the country that lies the furthest distance from Islay – New Zealand, that other remote island nation where sheep have been known to outnumber the locals by 7:1.

Ardbeg Blaaack knits together velvety summer fruit pudding and bitter cherry, with a deeper edge of soot and Ardbeg's hallmark smoke.